"Youth Justice Policy in Ireland – Where to Next?"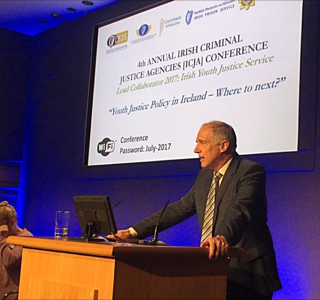 Cork East Fine Gael TD, and Minister of State at the Department of Justice and Equality, David Stanton, yesterday opened the 4th Annual Irish Criminal Justice Agencies Conference, "Youth Justice Policy in Ireland – Where to Next?". The conference at Dublin Castle was a collaboration involving the Irish Youth Justice Service, the Department of Justice and Equality, An Garda Síochána, the Irish Prison Service, the Probation Service and the Association for Criminal Justice Research and Development (ACJRD).
The focus of the conference is the Children Act 2001 and the commitment in the Youth Justice Action Plan 2014-2018 to review the legal framework for dealing with young people who commit offences to support the implementation of Government policy on youth crime. Speakers include Judge John O'Connor, Children Court, Dr Ursula Kilkenny, University College Cork, Prof. Geoffrey Shannon, Special Rapporteur on Child Protection, Julie Ahern, Children's Rights Alliance and Ms. Roxana Ungureanu, West University Timisoara, Romania.
Addressing the Conference, Minister Stanton referred to the support provided to the State agencies by community organisations working on the ground with young people. The Minister said, "I thank them for the great work they do in preventing anti-social and criminal behaviour by steering youths into positives activities. I encourage them to share their experiences of how the current youth justice system works for them on the ground."
The Children Act 2001 requires the authorities within the youth justice system to apply incrementally a series of measures. These range from diversion from court prosecution, to non-custodial sanctions handed down by the courts, to detention as a last resort. Minister Stanton referred to the need to reflect upon how the current approach has been working in practice and the new challenges that have emerged over the years of the Act's operation.
The Minister referred to the substantial Government investment of €17m in 2017 for community based youth justice initiatives with co-funding being provided under the European Social Fund. He also referred to developments in research, in particular the Research Evidence into Policy, Programmes and Practice Project in the University of Limerick, a three-year partnership between the Irish Youth Justice Service (and the University of Limerick which will assist in improving policy and practice decisions and support smarter investment in public services, while improving outcomes for young people as envisaged under the Government's National Policy Framework for Children "Better Outcomes, Brighter Futures".