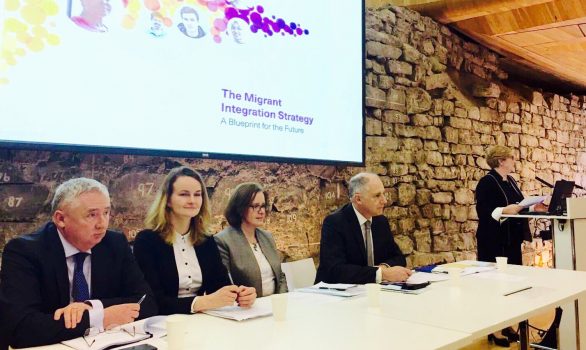 The Tánaiste and Minister for Justice and Equality, Frances Fitzgerald TD today launched the Migrant Integration Strategy which provides the framework for Government action on migrant integration from 2017 until 2020.
The Minister with special responsibility for Equality, Integration and Immigration, David Stanton TD launched the Communities Integration Fund which will provide funding for community-based organisations to promote integration at local level.
The Tánaiste said: "Ireland is increasingly diverse. Integration has to become part of our DNA so that its benefits can be felt by migrants, refugees and by society as a whole."
The Tánaiste added: "The Migrant Integration Strategy provides a framework for action on integration for the next four years. It will stimulate action on integration by Government Departments, public sector bodies, the business sector, local authorities, and by civil society organisations."
The Tánaiste continued: "The Strategy's aim is to enable all to participate actively and constructively in Irish society. Measures are proposed to encourage greater participation in public sector employment, including in the civil service, on State boards and in politics. Networks will be used to communicate information to hard-to-reach groups and to enable their voices to be heard."
"The Strategy has, as a priority, to ensure that mainstream services, such as in health, education, social protection and employment, are responsive to the needs of migrants. Targeted measures will also be developed to address particular issues."
The Tánaiste added: "Migrant integration in the workplace has been a success story over the past decade. Businesses can play their part in ensuring that integration becomes a fact of life in their areas and sectors."
Minister Stanton said: "Communities play a key role in promoting integration and in making migrants and refugees feel welcome. I have been struck by the level of good will among communities towards refugees and migrants. I want to build on that good will and to equip communities to take practical action to support integration."
Minister Stanton added: "The Communities Integration Fund will provide small grants to community organisations across the country to take concrete actions to support integration and to reach out to migrants and refugees in their areas."
The Tánaiste concluded: "This is a job for all of us. It is in our interests that we get this right, that migrants truly consider Ireland to be their home. Their talent and energy can help to build a better future for us all."
Teresa Buczkowska provided a migrant perspective when speaking at today's launch.